Benefits of introducing rent guarantees for owners

Even if the tenant delinquents the rent, Ells Support will replace it.
We support the owner's profit improvement and stable income.
Benefit 1: Stable cash flow

Even if the rent is overdue by any chance, we will replace it, so
we can stably deliver the rent to the owner.

Benefit 2: Avoid trouble with residents


We will handle all matters with residents regarding rent arrears.

Benefit 3: Increase occupancy rate

Even in cases where tenants have been refused due to the absence of a joint guarantor, the occupancy rate will be improved by accepting them using Ells Support's rent obligation guarantee service.
Ells Support's Rent Debt Guarantee Service
Key features of warranty service
For residential use
Basic warranty service
Regardless of whether or not the lessee deposits from the lessee, we also guarantee the cost of rent and moving out.
We support stable rental management.
Rent, etc.
Surrender litigation costs
Renewal fee
Restoration cost
Penalty
24-month guarantee including rent
Sudden cancellation report also
guaranteed penalty
Restoration cost at the time of moving out
Various ancillary services
Various services are also substantial. By accompanying the standard warranty plan,
it can be customized to a warranty service according to your wishes.
Plan for restoration and vacancy compensation at the time of death in the living room

Plan for restoration of original condition at the time of death or disappearance in the living room

Emergency rush +
household goods insurance correspondence plan
Watching service
Incidental plan
Safety Net
Residential Plan
For business
Business Plan
In addition to residential properties, we also guarantee stores and office properties for business use.
Rent, etc.
Surrender litigation costs
Renewal fee
Restoration cost
Penalty
List of services provided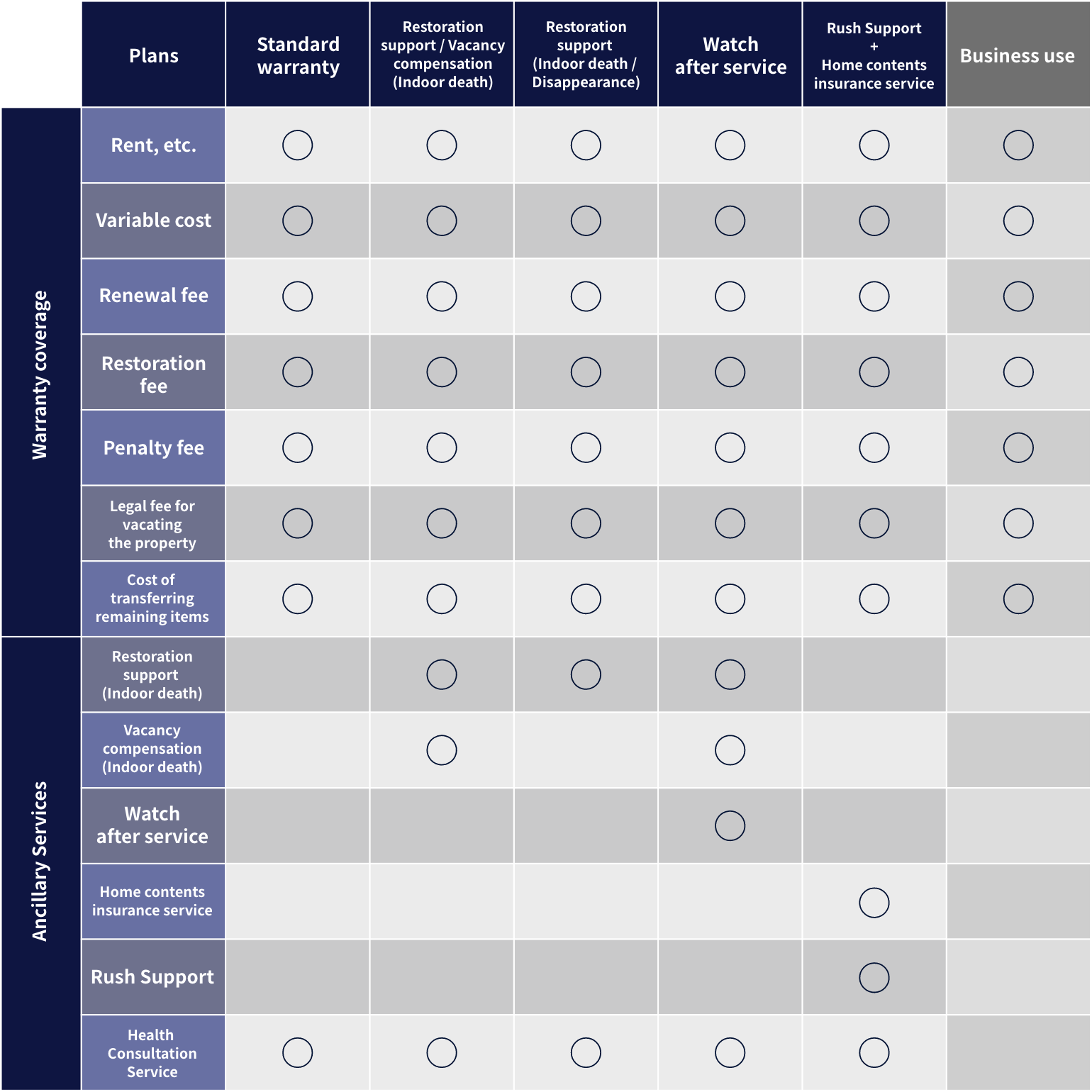 Owner's content
What is rent guarantee?

Application process

Frequently asked questions

Contact Us
Contact Us
For customers with hearing and speech disabilities.
L's support provides sign language and writing service